Larry Ivkovich, author of the urban fantasy, The Sixth Precept, will be selling copies of his novel in the dealer's room at Philcon, 2011, held in Cherry Hill, NJ from Friday, November 18 to Sunday, November 21.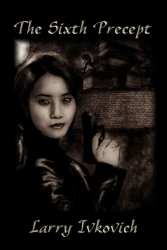 Larry Ivkovich will be selling his debut novel, the urban fantasy The Sixth Precept, in the dealers' room of Philcon, the Philadelphia Science Fiction Convention from November 18 to November 21. The Sixth Precept will soon be available on Amazon.com and Barnes&Noble.com.
Published by IFWG Publishing, The Sixth Precept is an urban fantasy with science fiction and horror elements. Part of the story takes place in contemporary Pittsburgh and part in ancient Japan. Action-packed and incorporating time-travel, mental telepathy and legendary Japanese gods, goddesses and demons come to life, The Sixth Precept follows the adventures of Pittsburgh detective, Kim Yoshima, and masked-hero wannabe, Wayne Brewster as they try to save the present by challenging the past.
Philcon, the Philadelphia Science Fiction Convention is held in Cherry Hill, NJ at the Crowne Plaza Hotel. The principal speaker this year is Cory Doctorow with the Artist Guests-of-Honor being Boris Vallejo and Julie Bell.